This page contains useful information and advice whether you are visiting, thinking of moving here or have just moved in.
History
Initially Selly Park was developed on the parkland around Selly Hall, whilst the land to the west of the Pershore Road (A441) was laid out for development in the mid nineteenth century with spacious plots and tree-lined streets, and where development is still restricted by covenant. On the other side of the Pershore Road, between it and Cannon Hill Park are several streets of superior c19 terraced housing, built by Grants, the principal local builder. One or two of the larger houses have been converted into offices and two small hotels.(Thanks to Wikipedia)
---
Conservation Area
Our area has gained Conservation Status with the support of the Residents' Association. Conforming to the requirements and getting permission for changes to the outside of properties is not too onerous, but do check with the following websites: Conservation of the Historic Environment and Selly Park Avenues Conservation Area before you start planning anything which will change the appearance or structure of your property. Broadly speaking, the sort of things you'll need permission for are:
Enlargement, improvement or alteration
Alterations to roof
Construction of porch, wall, gate
Creation of hard surface for parking
External TV, radio, satellite aerials
Painting of exterior of a building
Trees: cutting down or excessive pruning
Replacement of doors and windows (eg uPVC not allowed)
NB: the above list is only a guide and may contain errors! The key message is: if in doubt, check with the Council.
---
Cannon Hill Park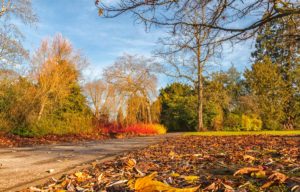 A wonderful amenity, probably the best park in Birmingham with the arts centre, the mac café, park rangers and beautifully kept gardens which delight all the year round. There is a boating lake with Swan pedalos near the MAC and also a newly built secure childrens playground, for which there is a small charge.  Another recent addition is the 18 hole putting green which has feature holes and waterfalls. Great fun for the family. There are outside events organised, mostly between May and October which does necessitate some restriction of access. Recent examples of these have been the Half Marathon and Taste of Birmingham. Residents get full notice of these events and parking in our roads during these events is restricted to residents.
---
River Rea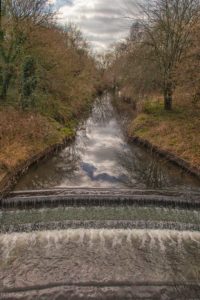 Although not as busy as the Thames (thankfully we are spared tourist ferries and oil tankers), the Rea is Birmingham's premier river. At about 3 metres wide, it is home to a host of wildlife, plants and forms much of the River Rea cycle route…which sort of figures. The Rea Cycle route can take you as far as Waseley Country Park, a healthy 10 mile ride each way.
The University of Birmingham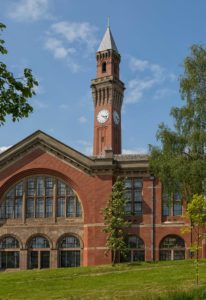 We are lucky to have one of the finest UK universities just 20 minutes walk away. Many of those living in the area work at the university and some study there. In addition, it is a great resource with a campus which is open to the public, the Barber Institute which houses one of the finest small art collections in the country, evening classes and a soon-to-be completed concert hall.
---
Schools
Birmingham has every kind of school you could imagine and many within easy reach of Selly Park. Information is available from the various education websites, but do contact your neighbours or a member of the committee if you would like some first-hand opinions.

Parking
Currently there are no parking restrictions, nor does there seem to be any plans to change this. Generally, people are able to park close to or outside their homes and people are pretty relaxed and flexible as to where cars are parked. It's always good to avoid parking on corners blocking 'drop-down' kerbs which are for the benefit of those with push chairs or wheel chair users
Selly Park Tavern
Is an extremely well-run and welcoming pub which attracts a wide variety of friendly customers and has an extensive food menu for both lunch and evening meals.  There is a bowling green to the rear of the pub, and there are pub quizzes and other events organised. There is a skittle alley which is also the venue for the Residents' Association AGM. It also hosts…a skittles league.
---
Public Transport
If you don't fancy the forty five minute walk into town then there are regular buses from just outside the Selly Park Tavern on the Pershore Road. During the day they run every 5 minutes. If you use the airport then you can get from your door to check-in in under 45 minutes via bus to New Street and then train to Birmingham International.
Refuse collection and recycling
General household waste is collected weekly on a Wednesday. Plastic, paper, glass, metal & recyclables are collected every other week on a Wednesday. If you've just moved in, check with your neighbours for dates. Two wheelie bins are provided by the council. Please do not put out rubbish earlier than 5pm on the day before collection.
---
Neighbourhood Watch Scheme
The Neighbourhood Watch Scheme was established early 2011. This is generally a very safe area and if we continue to be aware of security and look out for neighbours, it is likely to stay that way. We are still deciding how best to operate it for the benefit of all residents in a way that is helpful and not time-consuming or intrusive. If you would like to receive alerts and advice from the police, just send an email to sellynhw@yahoo.com with your name and address. Or contact the current Co-ordinator: Sean Russell, 25 Third Avenue, Tel: 0121 258 7776.